Small Business Saturday
Come visit QC Bike Collective this weekend in honor of Small Business Saturday!
As Manchester's community bike shop, we keep the community rolling in more ways than one. Many of the bikes we sell are for basic transportation, which are designed to be safe and affordable. But that's not all we do — we also sell bicycles for folks who can afford to invest in high-end bikes for recreation and sport. Some of our top-of-the-line models include a gorgeous Indie Fab and an ultra-lightweight Orbea road bike. Come try them out yourself on Saturday the 27th from 12PM-4PM!
We also will have new merch for sale, including an exclusive QC Bike 2022 Calendar, short and long-sleeve t-shirts, and onesies available for pre-order!
---
Giving Tuesday (11/30)
Join us in celebrating Giving Tuesday, the global day of generosity, on November 30th! From becoming a monthly sustaining donor to the gift of your time, all support is welcome and appreciated. Our doors will be open from 1PM to 8PM on Giving Tuesday, so come down and give what you can! Here are some ideas on what you can give to QC Bike:
Awareness of QC Bike's mission, by sharing with your friends about why you believe in the collective. Check out our toolkit for some sample messages!
Your time, by signing up to volunteer with us at qcbike.org/volunteer.
Money, to help keep our costs accessible to people who rely on the services we provide.
Supplies such as: Rags, toothbrushes, WD-40, vinegar, snacks/drinks/goodies Paper towels, printer paper, hand soap, toilet paper, sharpies, zip tiesAny bike tool or metric wrenches
A bike or gently used parts: We will give a new life to your old bikes/parts by putting them to good use!
---
Wrench-a-Thon is BACK!
From 11AM-5PM on Sunday, December 5th, QC Bike will be hosting a day of service that has opportunities for every skill level!
Sign up for a shift to reserve a work stand, or just roll by to write a thank-you note and grab a slice of pizza.
From 3-5PM, families are welcome to join in on kid-friendly activities. Masks are encouraged.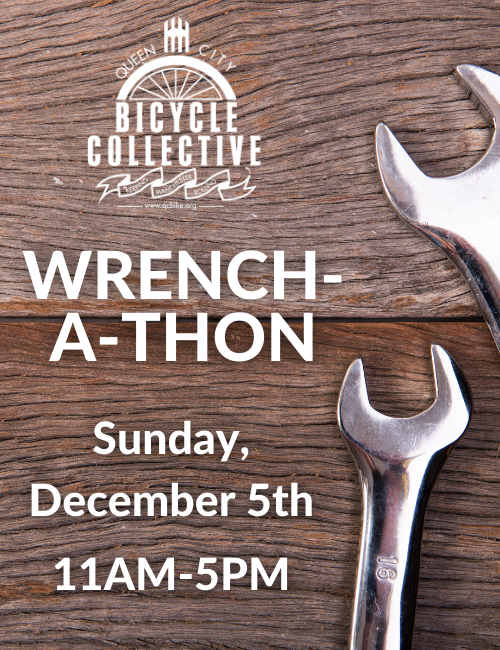 ---
New Fix-It Stations Installed Soon!
We're excited to announce that there will soon be nine Dero Fix-It Stations installed around Manchester!
The two new locations at West High School and on the Rockingham Trail will be installed soon.
Check out the map on the left (or click here for a larger version) to see where the current stations are located, and stay tuned to our social media to see the updated map upon installation!
Community Events & Meetings
Bike-Walk Alliance of New Hampshire, invites BWANH supporters old and new, plus all members of the general public (everyone!) to attend our annual meeting via Zoom on Monday Dec 13th at 6pm. Learn about roadways that are "dangerous by design" and how we can make roads safer for all users. The event is free, but you must register via EventBrite to receive the ZOOM dial in information.